Chris "Mo" Morris
Lead Vocals/Rhythm Guitar/Harmonica
"Rooster Stone is my dream band— great song writing, tight harmonies, killer licks, screaming guitar solos—it's like all the bands I loved growing up."

Chris "Mo" Morris grew up singing all the time, whether singing with his family while his dad played guitar or singing at church. In high school, he starred in the school plays and musicals, and sang lead and tenor as a part of two Mid-Atlantic Barbershop Quartet Champions. Mo began writing songs in 1995 in a project that eventually morphed into the regional act "Jack Shift"—an emotionally charged psychedelic rock band that showcased intense, intellectual songwriting with his unusually stark and signature vocals. Several acoustic acts followed, including MoGeo, before the gradual formation of Rooster Stone from 2011-2013. Mo has also been part of several regional projects with some of the best musicians in the area including an Aerosmith and also a Police cover band.  He has been influenced by Jim Morrison, John Lennon, Bon Scott, Mick Jagger, Beck Hansen, Jack White, Julian Casablancas, and Caleb Followill.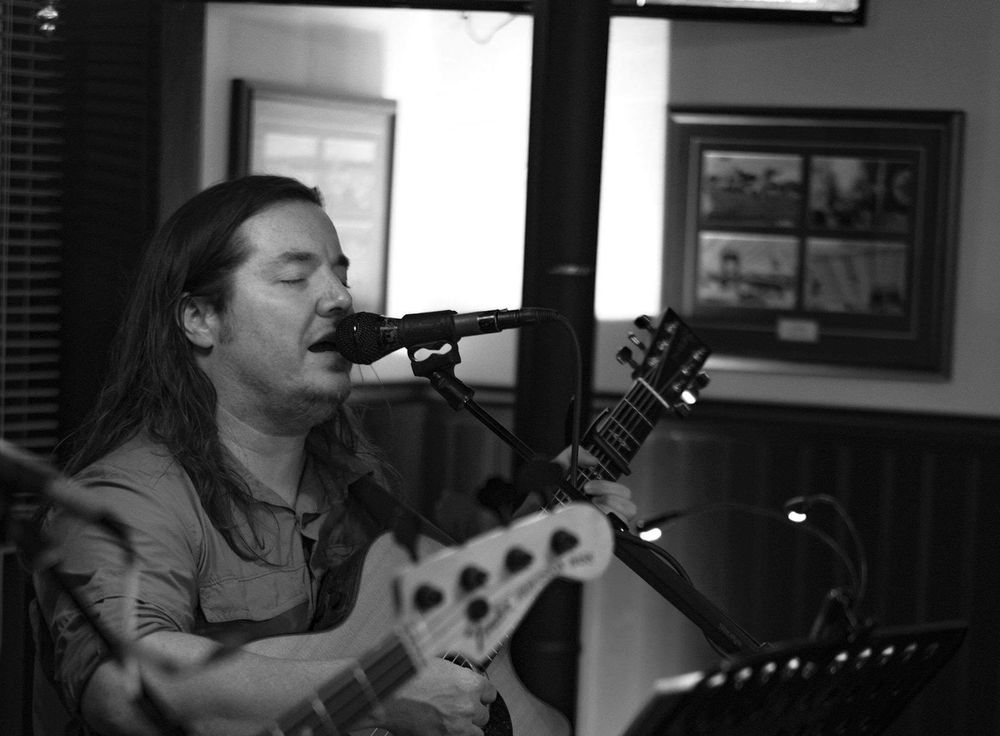 Steve Davis
Lead Guitar/Back-up Vocals
"I love the variety of music that I'm involved in..."
Steve grew up taking piano lessons (against his will) and played French Horn in school. When he was 17, he picked up a cheap old guitar that was laying around his house and started playing along to records. At one point, he attempted to amplify the guitar by hot-wiring a record player needle inside the sound hole. It worked but sounded terrible. He has played in acts such as the Toothless Rooster Men, Simply D, and rock/country bands too many to count. Steve ran one of the most successful open mics in Lancaster County for 18 years. He currently plays in an acoustic act with his wife Lynn called Songsmith and also works as a guitar instructor, fine artist, and freelance graphic designer.  Steve has been heavily influenced by: Jeff Beck, Pat Metheney, John Scofield, Tommy Emmanuel, Jimi Hendrix, David Gilmour, Jimmy Page, Steve Howe, Chet Atkins and Larry Carlton. 
Michael Vitale
Bass Guitar/Back-up Vocals
"Rooster Stone scratches that itch. No not THAT one. Well actually, yeah it scratches that one too." 
Vitale was the tall kid in elementary school and tall kids get asked to play the double bass. Being church musicians, his parents were very supportive. He has since played in over 40 states and abroad while touring with "The Recipe," "Vinegar Creek Constituency," and various other acts. Vitale has backed artists including: Charlie Gracie, Robert Gordon, Tommy Conwell, and Doug Jernigan. He has performed in several orchestras and has extensive theater and opera experience, including nation tours of "The Wedding Singer," "Footloose," and "Beehive: The 60s Musical." Vitale holds a Bachelor's Degree in Music Pedagogy/Performance from Millersville Universtiy, a Master's Degree from Duquesne University in Classical Double Bass Performance, and is on the music department faculty of Millersville University. He maintains an active teaching studio for both double and electric bass. Vitale has been deeply influenced by: Tony Levin, Bernard Edwards, Gary Lee Weinrib, Gordon Sumner, Paul Simonon, John Taylor, Dee Murray, Tony Franklin, Duck Dunn, Carol Kaye, Bobby Vega, Jeff Turner, Jim Trimble, Eire and flowing water. 
Scott George
Lead Guitar/Back-up Vocals
"Rooster Stone sounds like battling Ogres and the Cyclops from the back of unicorns with a sword forged by the Power of Greyskull and lined with the blood of faeries." 
Scott George has played a host of instruments since he was 6 years old including: piano, drums, and guitar. He spent 4 years in the Marine Corps after high school and upon his return began sitting in on djembe with Mo and Red at the acoustic shows they were playing at the time. When Red took a job in Philadelphia, Scotty began playing acoustic shows with Mo under the name MoGeo. After playing for several years together, Scotty moved down to Virginia where he played in several local Fredricksburg bands and continues to do so. Once we started recording again, Scotty wanted to be on board, and has since brought his electrifying talent to the group. Scotty's influences are broad and diverse from AC/DC and the Allman Brothers to Robert Johnson and Muddy Waters.